Web Publishing Community Networks Run on Partnerships
The success of the network relies upon the participation of its member partners.
Compelling incentives include substantial referral rewards and personalized support for projects together with partner-membership packages intended to make things easier to manage.
Peers sharing solutions
Agencies managing brand cross-channel content marketing
Freelancers and independent contractors working on gigs 
Bloggers and Influencers discussing trends and ideas
Please Consider the First Penguin Theory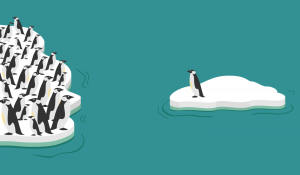 Guinea Pig, Canary in the Mine, or First Penguin?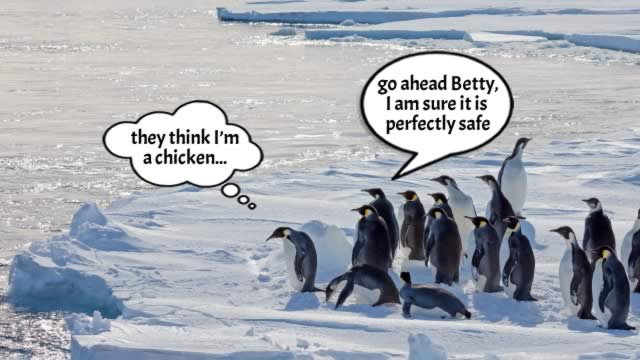 When new opportunities present themselves, few people like being
the first penguin to test the water and find out if predators are lurking .
The Market Waits for No One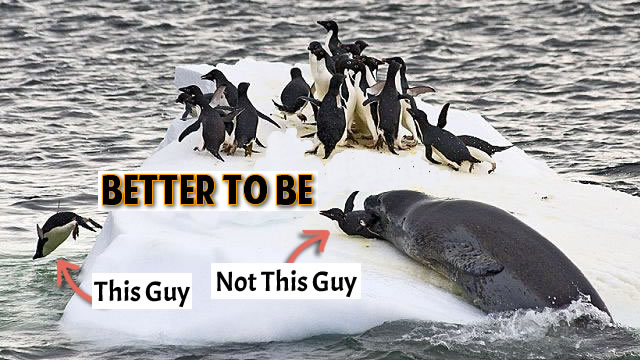 But waiting around to see what happens is also bad for business. Someone sneaks up from behind you, or the ice melts under your feet.
That first penguin might need a push from you to get started
(or maybe just a referral)
Early Bird Gets the Best Fish
Don't let the ice melt under your feet - take action.

At a minimum, join the network and complete your profile, and then sign-up for referral rewards program.

Then you might want a subscription to add your business listing on the Outsource Marketplace directory (we funnel prospective customers to this directory).
Up your game and register as an Agency or Freelancer - which will get you personal project support assistance setting up and promoting your business, finding clients, closing deals, and delivering on tasks & projects. And... we will give you the opportunity to work on our projects as a 3rd-party resource. 

Start telling people about the network - earn commissions for websites, directory listings, and premium memberships. Provide value added services to maximize the potential of these resources.

Affiliate Referral Rewards
Earn digital chestnut rewards and upto 50% and flat rate commissions simply by referring people to B2 Index.
Remember, Memberships (including authority building profiles) are free, so people will thank you for letting them know about web publishing and cooperative digital marketing.
Members are automatically enrolled as affiliates - please go to the B2 Index Affiliate Area to setup your flexible link options.
Freelancer and Agency Packages
We recognize the importance of working with 3rd-party contractors and agencies to make the community network better. We try to simplify things and offer packages that incentivize using the system.
What Makes Being a B2 Index Partner Worthwhile
Most business owners or managers are too busy to take the time to get the most from their online 'presence' and 'properties'. They probably focus on one thing -- Facebook, or Instagram, or their Website.
They might be good at advertising, but many people paying a lot of money to Facebook or Google ads, forget all about relationship marketing and managing the sales cycle.
When it comes to marketing, it's likely they are disorganized and don't have the time to create compelling information that leverages data relationships to boost their E-A-T across all their channels. They also don't know how to re-use the same content to their advantage to get it seen by a bigger or different audience in different places.
You'll hear "I know my customers better than anyone!" but... do they know the customers they're not getting?
One of the great things about internet marketing is that it's a 'numbers game'. A small improvement in a couple of different places can have a substantial impact on results. Increase traffic by a few percentage points, improve conversion rates by a percent or two... and all of a sudden sales can go up by 10 or 20%.
Oftentimes something that seems intangible and esoteric, shows up in bottom-line results.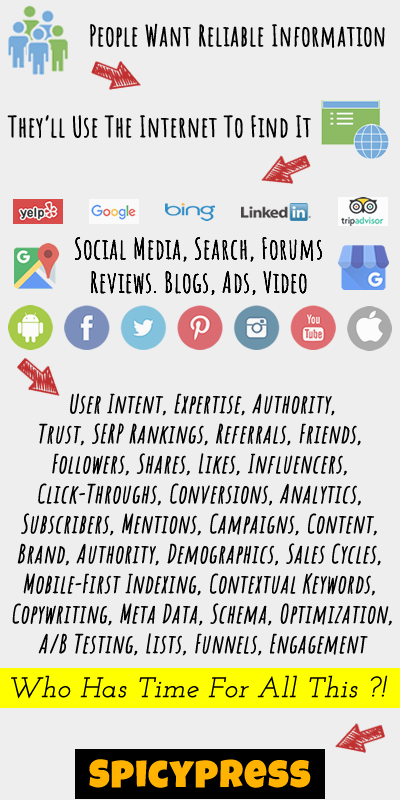 Things You Can Offer
In addition to simply using a referral link, please consider these valuable services that small businesses and organizations will benefit from:
Setup Profile Accounts
Simply making sure social media and GMB profiles are completed, and what their URL address is, can be a time consuming job.
Content Syndication
Once Accounts are Connected Profiles it leads to content syndication. Depending upon the type of membership level content generated on MTo can be automatically distributed to a wider audience on social media and web 2.0 sites.
Success Gets Rewarded
Social Media and Search Engine platforms use algorithms to calculate what is worthy of showing to people. A lot of user activity and data relationships get tracked across the internet to figure out what is popular.
B2 Index is part of
SpicyPress Web Publishing Networks
There is no shortage of niche community vertical markets to help small businesses and organizations with digital marketing.